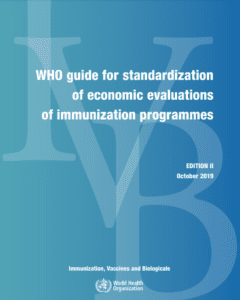 WHO has recently published a new edition of the guidance to meet the increased need to carry out immunization economic evaluations for decision making using the latest methodologies.
This updated guide brings together the recommendations and guidance from many recent guidelines, tools and other documents on specific aspects of immunization and on specific vaccines.
The primary target audience for this guide consists of researchers who conduct economic evaluations of immunization programs at the local, national, regional and global levels. The secondary target audience is individuals who use cost-effectiveness information to assist policymakers at all levels for funding decisions relating to immunization programs.