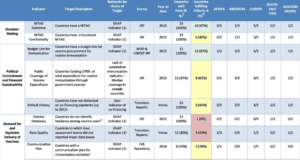 Through a review of available literature on the subject, this study, conducted by WHO, documents the lack of comparative analyses on immunization system performance in countries transitioning from Gavi support. Despite increased emphasis on the importance of programmatic sustainability beyond financing through the Gavi 2016–2020 Strategy and availability of data, existing literature has predominantly documented challenges related to domestic financing of immunization.
This study complements a review of current literature with an analysis of country assessments conducted by immunization partners since 2011, in an effort to document programmatic challenges related to decision-making for immunization policy, delivery of services, and access to affordable and timely supply in Gavi transitioning countries. The analysis includes data from LNCT countries Angola, Armenia, Georgia, Ghana, Moldova, Sri Lanka, and Uzbekistan.
In light of the findings, WHO suggests continued systematic compilation of country performance data beyond financing to inform policy-making, in particular for: (i) development of a more nuanced theory of change towards sustainable immunization programs and (ii) measurement of progress and key areas for attention and investment.