Estimated readtime: 6 min
Authors: Jason Zhu (CHAI), Priscilla Rouyer (CHAI), Johanna Fihman (WHO), and Miloud Kaddar (LNCT)
In our previous blog, we discussed where to access resources on product choice and price. In this blog we cover the remaining core area, product access and its role in helping address supply shortages.
As you can see, there is a lot of information available to countries. Keeping up to date on this information does not have to be burdensome though. We will discuss when reviewing market intelligence is most important and discuss a few additional resources available for those interested in learning more about market intelligence and procurement.
Product access: are the desired vaccines available for procurement?
It is important to recognize that not all vaccines in the market may be available for procurement. Understanding why a desired product might not be available for procurement will help determine a potential course of action to improve access. The following factors affect whether a vaccine is available for procurement: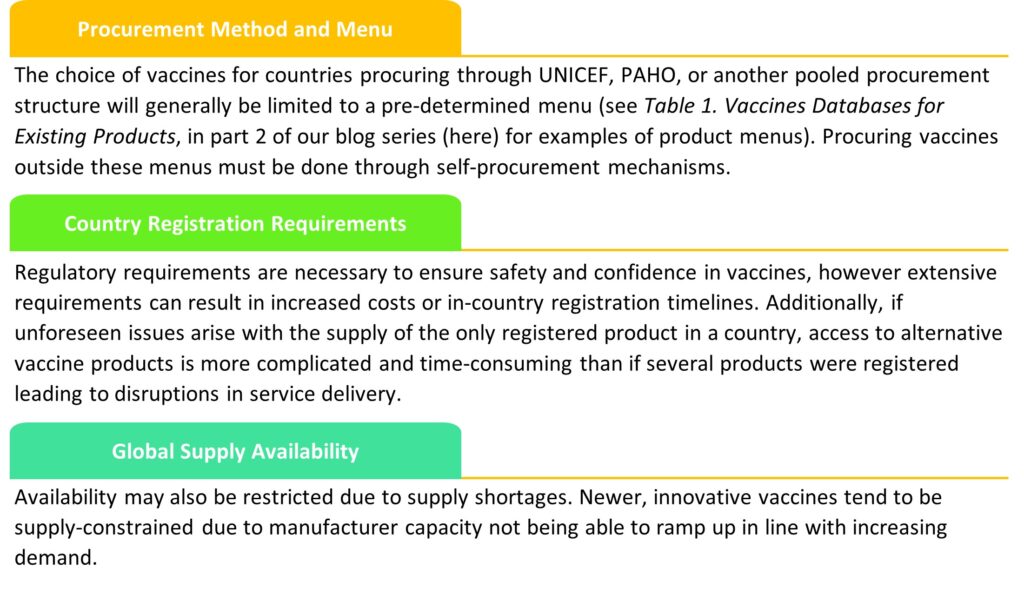 The following publicly available resources have been developed to provide additional clarity on ongoing and expected supply constraints:
UNICEF Vaccine Market Notes
These reports are focused on UNICEF supply. During a period of global supply shortages, UNICEF will provide a high-level summary of how severe the supply shortage is, how long it is expected to last, which products are being affected, potentially information on how supply is being prioritized, and impacts on price. The reports are usually updated on an annual basis here.
WHO Global Vaccine Market Studies
WHO develops MI4A Global Market Studies for certain antigens, currently including Bacillus Calmette–Guerin (BCG), diphtheria & tetanus containing vaccines, meningococcal meningitis, measles and HPV, that detail supply and pricing trends for the global market at large, including high-income countries, middle-income countries, and self-procuring countries. The reports are usually updated on an annual basis here.
How can I stay up to date and use market intelligence to influence decisions?
Tracking market evolution continuously overtime for all antigens would be a resource-intensive task. As a result, one suggestion is to set up annual reviews of the country's immunization procurement portfolio, identifying areas of concern and consolidating market updates over that period. Timing these market reviews to align with ongoing activities like Comprehensive Multi-Year Planning (cMYP) reviews, Gavi vaccine renewal requests, or Gavi transition planning could increase the likelihood of influencing procurement strategy. For example, one area of concern could be identifying that PCV vaccination is expensive and the goal would be to find an alternative, cheaper PQ product, provided it meets country programmatic needs.
Market updates can then be obtained through reviewing the product information from WHO, Gavi and UNICEF SD market updates, and noting any changes; as well as reaching out to neighboring countries, as discussed in the next section. Identification of alternative products for product switch can then initiate processes to have materials reviewed by NITAGs and other stakeholders to build decision-making consensus. If procuring via a pooled procurement body (e.g., UNICEF SD and PAHO) countries should always reach out to these bodies to understand a) availability for the product they are considering switching to, and b) processes required for a product switch.
The Benefits of Cross-Country Market Intelligence Sharing: A Case Study of the Republic of Congo and Cote d'Ivoire
Countries should not underestimate the value in working with neighboring countries to share market intelligence. This can reduce the burden of individual countries on sourcing and analyzing all the relevant information themselves, and is a critical stepping stone to more complicated regional procurement efforts like pooled procurement. In 2018, representatives from the Ministries of Health and Finance of the Republic of Congo met with UNICEF and Bharat Biotech while on a visit to UNICEF Supply Division in Copenhagen to discuss the possible benefits of switching from GSK's Rotarix vaccine to Bharat Biotech's Rotavac. Through a series of further consultations, the Republic of Congo gathered a wealth of information from Bharat Biotech about Rotavac's efficacy, effectiveness, presentation, formulation, schedule, cost per dose and per course, financing modalities, and other questions. In consultation with the Ministry of Finance and UNICEF, and in close collaboration with the Interagency Coordinating Committee, Congo's Ministry of Health made an informed decision in 2019 to switch to Rotavac.
The decision turned out to be a good choice for Congo's context. Rotavac's efficacy and quality were similar to those of Rotarix, and it had received WHO pre-qualification. It required less cold chain capacity, as it was stored in five-dose vials instead of single-dose. Additionally, Congo's immunization schedule was already set up to accommodate Rotavac's three-dose schedule. The country encountered some additional costs associated with the process of providing information about the vaccine switch to families, training health providers to deliver the new vaccine, and adjusting vaccination cards to include a three-dose instead of a two-dose schedule. Nevertheless, Congo believes the switch will be cost-saving in the long-term, and they saved 400 million CFA (approximately 555,000 USD) on vaccine procurement in 2020.
When Cote d'Ivoire informed the Learning Network for Countries in Transition (LNCT) in late 2020 that they were interested in switching rotavirus vaccines, Congo was eager to share their experience. The two countries met on a LNCT-facilitated call during which Congo shared not only the market intelligence they had gathered from Bharat Biotech, but also information they had gathered through their experience implementing the switch, including the positive impact on cold chain capacity, the support available from Gavi (a grant for training, communications, and vaccination card and register revision), the support available from the manufacturer (translation of technical documents and contributions to trainings and communications materials), funding modalities (payment in advance), observed adverse events following immunization (none so far), and the impact of the COVID-19 pandemic (disruption of the switch and all immunization activities). Thanks to Congo's willingness to share, Cote d'Ivoire will be able to make a more informed decision about their own switch, if and when they decide to conduct one. They plan to return the favor in 2021 by providing advice to Congo as it establishes its NITAG, which will support future vaccine introduction as well as overall immunization program planning and management decisions.
How can I learn more about market intelligence and procurement?
Market intelligence is just one aspect of procurement and part of a broader strategy to ensure that a country can access affordable, effective vaccines. Countries interested in learning more about how to set up an effective vaccine procurement system should be aware that UNICEF and partners are developing an online e-procurement learning course that covers topics like planning and budgeting, tendering, regulatory systems, and more.  The e-learning course on strategic vaccine procurement is intended to provide a background on key vaccine procurement processes to strengthen the capacity of national governments to ensure sustainable access to and timely supply of affordable vaccines. The UNICEF-led e-course was developed in collaboration with partners, including the Clinton Health Access Initiative (CHAI), Developing Countries Vaccine Manufacturing Network (DCVMN), the Gates Foundation, Gavi, the Vaccine Alliance, International Federation of Pharmaceutical Manufacturers and Associations (IFPMA), Médecins Sans Frontières (MSF), PATH, World Bank and World Health Organisation/PAHO.
The e-procurement online course will be available to the public (here) in the Fall of 2021.   
We would like to acknowledge the contributions of the Bill and Melinda Gates Foundation, Gavi the Vaccine Alliance, UNICEF, and the Learning Network for Countries in Transition in reviewing, editing, and supporting the development of this blog series.
View parts 1 and 2 of this blog series.