Last month, new WHO/UNICEF estimates on immunisation coverage (WUENIC) highlighted major declines in global vaccination coverage in 2021, with 25 million infants missing out on lifesaving vaccines. These dangerous decreases in coverage were the largest sustained decline in childhood vaccinations in approximately 30 years. Here's what you need to know about the recent data.
Key Takeaways:
In 2021, 25 million children missed out on one or more doses of DTP through routine immunisation services.
18 million of the 25 million children did not receive a single dose of DTP during the year, the vast majority of whom live in low- and middle-income countries, with India, Nigeria, Indonesia, Ethiopia, and the Philippines recording the highest numbers.
Over a quarter of the coverage of HPV vaccines that was achieved in 2019 has been lost.
Amidst the gloom, there are signs of recovery and resilience; some countries, including over half of the 57 lower-income countries supported by Gavi, managed to stabilize, or even increase coverage in 2021.
Including COVID-19 vaccinations, lower-income countries administered more vaccines in 2021 than any year in history.
We're pleased to be launching timely, new country dashboards that help middle-income countries track their progress toward strong immunisation programme performance using this up to date evidence released from WUENIC, WHO/UNICEF Joint Reporting Form on Immunisation (JRF), and other sources.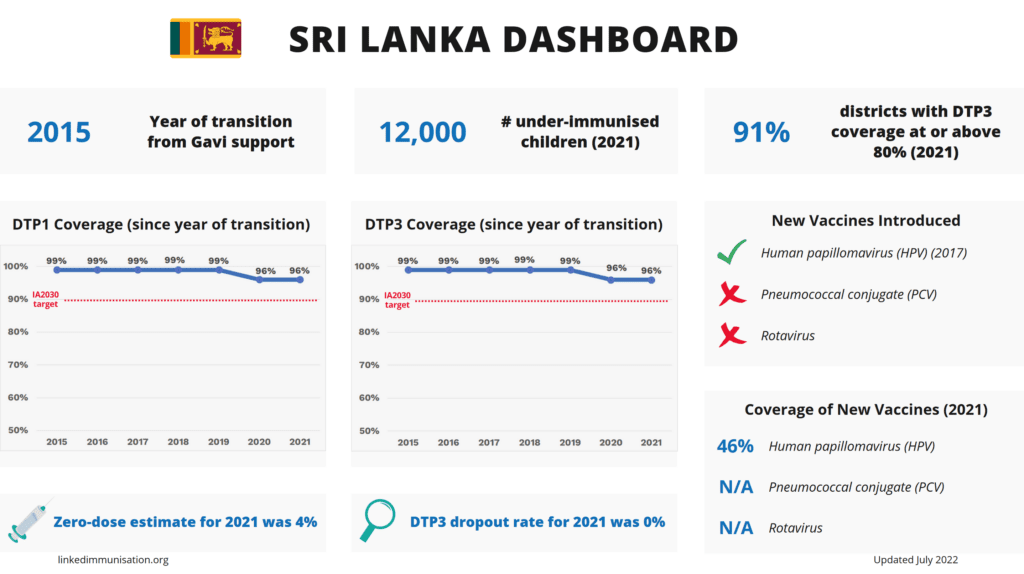 We encourage you to explore the dashboards for all middle-income countries that transitioned from Gavi support, which include key indicators around coverage, equity, financing, and new vaccine introductions. Simply click on the individual country profiles on our website to access the dashboards!
For example, of the 19 countries that have transitioned from Gavi support, did you know that 8 countries had coverage levels in 2021 over the global target of 90% for DTP3 while 11 countries were below the target? Of those 11 countries, 5 were within five percentage points of 90% coverage, but 6 countries had coverage levels quite a bit below the target. Additionally, 9 countries maintained or increased their DTP3 coverage from 2020-2021, but 4 countries experienced a slight dip in coverage and 5 experienced a serious drop in coverage over that period.
Linked is here to facilitate connections between countries to learn from each other on how they are addressing coverage gaps and the successful approaches they instituted to maintain, restore, or even increase coverage. Stay tuned for information about learning engagements on "Clearing the Backlog" where we highlight these important lessons. Please share your insights, experiences, or questions on our community discussion forum by contacting Network Facilitators at community@linkedimmunisation.org.